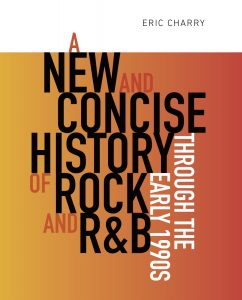 399 pages, 64 figures. Wesleyan University Press. 2020.
"This is an immensely useable book, smartly concise. It offers a bird's eye view that also reveals the divergences, gray areas and overlaps so critical to understanding the history of rock." —Benjamin Harbert, Associate Professor of Music, Georgetown University.
Just as its name implies, Eric Charry's book A Concise History of Rock and R&B through the Early 1990s provides an astute and nuanced history that is accessible to both students and general readers. Featuring well-organized sections with topics ranging from Tin Pan Alley to 1970s disco, from the Beach Boys to the influence of incarceration on 1980s Hip Hop, this book succeeds at covering a wide variety of musical styles that fall within the categories of Rock and R&B.
Charry lays out key theoretical issues, covers the technical foundations of the music industry, and provides a capsule history of who did what when, with particular emphasis on the rapid emergence of distinct genres in the music industry. Using 64 charts and figures, he distills the history of rock and R&B into new ways of visualizing and understanding genres and trends. This innovative, alternative textbook provides fresh perspectives that bring readers into the heart of the social and cultural import of the music. Charry's ethnomusicological approach allows him to dive deeply into compelling contemporary issues of identity, authenticity, and appropriation, providing a foundation for understanding how music, the music industry, and American culture intersect.
Table of Contents, List of 64 Figures, and Introduction
Samples:
SUPPLEMENTARY MATERIAL
Purchase from: Amazon;   the Publisher.
For Instructors: order examination copy; order desk copy
To contact the author: echarry@wesleyan.edu